Local Businesses Excited to Exhibit at Opportunities Doncaster Live, the Region's Largest Careers Fair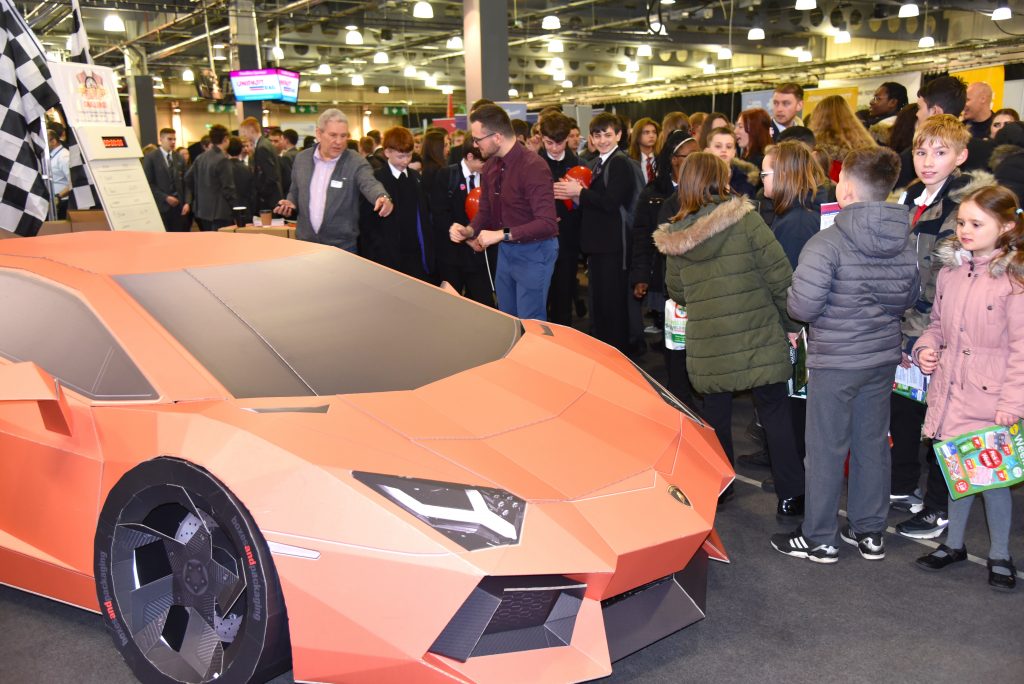 With National Apprenticeship Week (NAW) currently underway, Doncaster Chamber is encouraging local businesses to exhibit at its flagship careers fair.
The largest event of its kind in the entire region, Opportunities Doncaster Live (OD Live) has been running for a number of years now, and each time it gets bigger and better. As the name suggests, its aim is to inspire young people in our city to think about the job prospects that are right on their doorstep.
It does this by getting businesses and education providers to come together under one roof, at the Doncaster Racecourse venue. Attracting upwards of three and a half thousand school-age learners (with separate content tailored for primary and secondary school children), it is ideal for any employer hoping to connect up with their future workforce.
Exhibiting businesses are welcome from all different industries, so that young people can see the full range of options that are available to them in Doncaster and potentially even kick-start their careers.
Every year, there are always hundreds of interactive stands at OD Live — where firms can demonstrate what they do in unique and attention-grabbing ways — alongside engaging activities and insightful talks. For 2023, the likes of Polypipe Building Products, The Yorkshire Wildlife Park, Doncaster & Bassetlaw Teaching Hospitals, SYNETIQ, Doncaster Council, South Yorkshire Police and Hybrid Air Vehicles will all have a presence at the event.
Given that it has such an emphasis on connecting businesses with the next generation of talent, OD Live is of great relevance to any employer looking to take on an apprentice in the future.
Speaking about this, Jade Dyer, Business Director for Doncaster Chamber, said: "National Apprenticeship Week is a great chance to highlight the worth of apprentices and what they can bring to a business in terms of their work ethic, ingenuity and skills set. As an organisation, we have experienced first-hand just how valuable these colleagues can be, seeing as a highly-regarded member of our team began their career with us as an apprentice.
"With that said, we'd like to take this opportunity to remind firms that, if they are on the lookout for a new apprentice, then our OD Live careers fair is the perfect venue for meeting potential candidates and sparking an interest in the younger generation. This event is always a highlight in the local calendar, helping businesses and students alike to realise their potential, so it's important not to miss out."
From an exhibitor perspective, Jazz Jones, Head of Learning & Development at Polypipe Building Products, said: "As a Doncaster business at heart, we hope to be able to find our future leaders within our local community. This is why we're taking part in Opportunities Doncaster Live once again, to showcase the incredible apprenticeship schemes we offer within Polypipe Building Products and to help the future generations of our business make the right career choices.
"We offer apprenticeships across various departments within the business, from engineering and transport to business admin and leadership. Opportunities Doncaster Live gives us the opportunity to present the wider business here at Polypipe Building Products and engage with the students of Doncaster."
Echoing these points, Sharon Jarvis, Learning & Development Manager at Gleeson Homes, said: "We are more than bricks and mortar; we build talent. As the construction industry is currently seeing a shortage of skills, apprenticeships are more important than ever. It is a way for us to nurture talent and grow the business by creating the next generation of house builders. Apprenticeships provide an alternative route into skilled employment, with the appeal of earning whilst learning.
"Attending the OD Live careers fair is excellent for networking and provides us with a platform to showcase our opportunities within Gleeson, whilst making connections with other like-minded organisations and people who are wanting to succeed."
Rail business CWE will also be exhibiting at the event. Speaking about this, the firm's Managing Director, Nick Andrew, added:  "Having started as an apprentice myself, I am passionate about investing in young people to find their feet within the rail industry. For the last few years, CWE has employed two apprentices a year.
"This year, we will be employing a minimum of four apprentices and a graduate to join our team. We are committed to tomorrow's rail talent, myself and my apprentices are excited to exhibit at Opportunities Doncaster Live and discuss apprenticeship opportunities with CWE."
Finally, Anne-Marie Paterson, Business Services Manager at GTA Doncaster, said: "Apprentices are the workforce of tomorrow and the new generation of skilled employees that businesses will need to succeed. Through the OD Live event, we are hoping to network with local schools and give students the spark to kick-start their career with their future apprenticeships."
Staunch advocates of apprenticeships and the value they can bring to organisations, Doncaster Chamber recently sponsored three categories at Doncaster College's apprenticeship awards.
OD Live 2023 will be held at Doncaster Racecourse on Thursday the 9th March. Further details, including links to book onto the event and the full list of current exhibitors, can be found here.
Did you know? Members can submit their own news and events to be posted on our website. Log in to get started