Doncaster Primary School Children Experience Nature Up Close and Discover Career Opportunities in Wildlife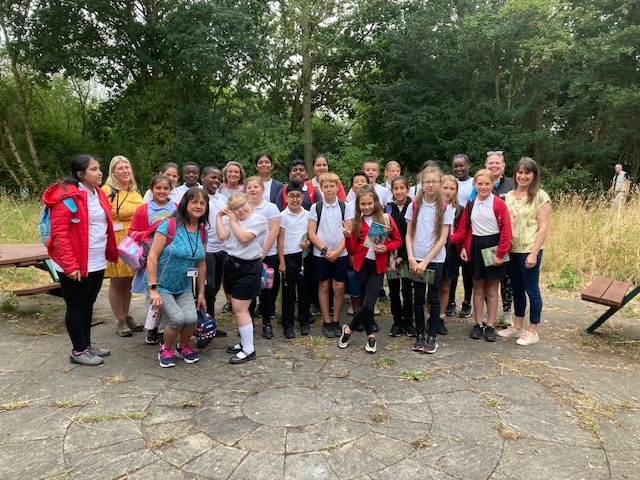 Children at a local primary school had a chance to take their learning outside of the classroom last week, getting up close and personal with nature, thanks to a pair of events organised by Doncaster Chamber.
The year 6 pupils, who attend Town Field Primary School, embarked on a special trip to Potteric Carr nature reserve, while some of their classmates had a concurrent visit from the Reptile Rendezvous & Furry Friends animal encounters team.
The former group were able to enjoy various outdoor activities (including bird-watching and minibeast hunting), as well as scenic walks around the vast fenland site. Covering 200 hectares of woodland trails, reed beds and ponds, Potteric Carr is looked after by the Yorkshire Wildlife Trust (YWT), a charity that is dedicated to preserving animal habitats and to helping people foster meaningful connections with the region's diverse flora and fauna.
The reserve is famous for being home to many different species of wetland birds, making it a popular destination for both ornithologists and families just looking for a nice day out. The Town Field students were able to experience this particular aspect of Potteric Carr for themselves during the recent visit, as they were equipped with handy binoculars and an expert guide to help them spot feathered friends.
In addition to this, they also had the opportunity to grab a net and catch some nearby minibeasts. Once they had amassed a decent collection here, they were then shown how to study these bugs under a microscope and catalogue them just like professional entomologists.
On that note, the event was intended to highlight the range of careers that are available in fields like wildlife conservation, animal management and charity work. The team from Opportunities Doncaster (part of the local Chamber of Commerce that is specifically focused on education and skills) organised this Potteric Carr trip in order to inspire the year 6 children, opening their minds and showing them just how many unique jobs are available to them in the area.
Along the same lines, they arranged for Reptile Rendezvous to bring their menagerie down to Town Field Primary School as well, where they exhibited a collection of snakes, lizards and all manner of creepy crawlies. Again, this gave the students a chance to learn more about the natural world around them, while also raising their awareness of exciting careers that they might not otherwise have known about.
Excitedly recapping the day, one of the pupils at Potteric Carr said: "The best bit was probably the minibeast hunting. My friends and I found a really cute beetle that had a yellow heart on its back and we found a big harvestman too. There's so much amazing wildlife out here that people don't pay enough attention to.
"I think it's really good to do these kinds of trips, because they spark your interest if you want to do something like this when you're older. It just helps you get into it."
Similarly enthusiastic, Nadine Hizzette, Year 6 Teacher and Science Lead at Town Field, said: "We know that children already love science, but we want them to see that the subject can be part of their future and that they can aspire to have careers in it. Opportunities like this help them realize that, so that we can then send them to secondary school knowing that they can succeed in a STEM job."
Meanwhile, Philippa Barrowcliffe, Head of Education & Skills at Doncaster Chamber, said: "Bringing education and curricula to life in real-world settings not only enhances learning but also enables children to attach meaning to their studies. Today at the nature reserve we experienced how learning can take place anywhere and does not have to be confined to the classroom.
"It's great to see the difference these experiences can have on our young people. Some of them have never been to a large nature reserve before and didn't know about the associated career opportunities, so it was very rewarding to open their eyes to it. It's this kind of work that makes what we do at Opportunities Doncaster so worthwhile."
Kat Woolley, Inspiring People Officer and Forest School Leader for Yorkshire Wildlife Trust, added: "It's invaluable giving school children this opportunity to experience nature directly in a wilder space like Potteric Carr. They asked so many good questions, which tells me they are listening and soaking up the experience. I also enjoyed sharing the wider work of YWT and seeing so many of them now considering this work as an option for their career was amazing."
Looking ahead to the future, the Opportunities Doncaster team will be continuing to inspire the next generation when they host their annual OD Live event in March. Featuring interactive stalls and exhibitions from over 100 businesses, this is the biggest careers fair in the entire South Yorkshire region. You can find out more about it on the Doncaster Chamber website here.
Did you know? Members can submit their own news and events to be posted on our website. Log in to get started