UK Export Finance is the UK's export credit agency. UKEF's mission is to ensure that no viable UK export fails for lack of finance or insurance from the private sector, while operating at no net cost to the taxpayer.
UKEF helps UK-based exporters of all sizes export to over 200 countries. Their support enables businesses to access finance and insurance when there is a lack of private sector risk appetite or capacity, and they work with over 100 private credit insurers and lenders.
UKEF's export finance managers, based across the UK, provide free and impartial guidance to businesses on their export finance needs.
UK Export Finance helps companies:
Win contracts by providing attractive financing terms to their buyers
Fulfil orders by supporting working capital and trade finance
Get paid by insuring against buyer default
Below is a case study from last year how UKEF supported a company through the General Export Facility (GEF) product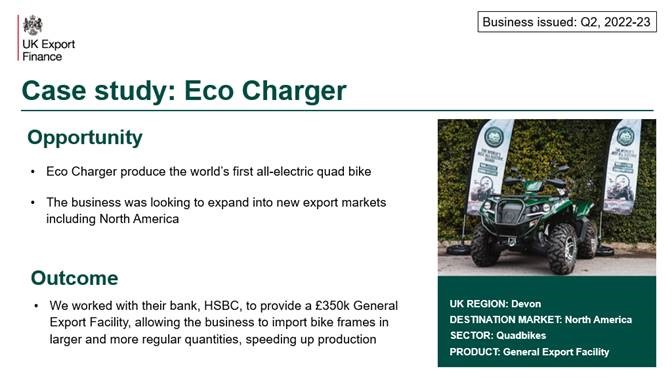 Your local Export Finance Manager
Manuel Fantin is an Export Finance Manager, for UK Export Finance, the UK's Export Credit Agency.
Before joining UKEF in March 2023, Manuel worked 5 years for the Department for Business and Trade as an International Trade Adviser supporting UK companies to expand internationally.
With his wealth of experience, Manuel is now the Export Finance Manager for South Yorkshire helping businesses to export, trade safely, and get paid.
Manuel Fantin – Export Finance Manager: South Yorkshire
Email: manuel.fantin@ukexportfinance.gov.uk
Phone: +44 (0)7917 108450
International Trade Services