Businesses To Explore New Opportunities and Expand Their Knowledge of Exporting & Importing at South Yorkshire's First-Ever International Trade Conference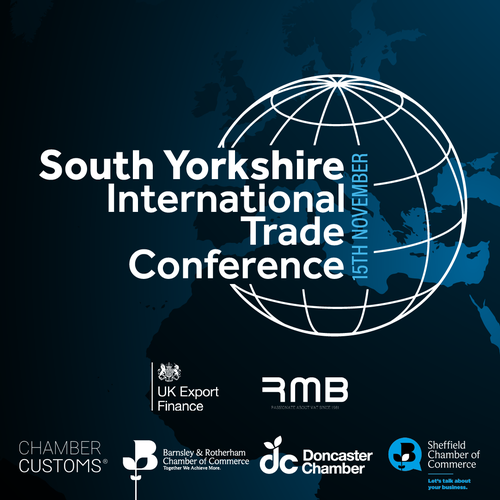 Business leaders, specialist experts and other such professionals will all be gathering together next month for South Yorkshire's first-ever International Trade Conference.
Jointly organised by the three regional Chambers of Commerce (those being the respective networks for Doncaster, Sheffield and Barnsley & Rotherham), this trailblazing event promises to be a must-attend for both exporters and importers alike, as well as for those companies that are thinking about dipping their toes into the global market for the very first time.
Among other things, the conference represents a chance for businesses to forge new connections — that will help them prosper in the daunting world of International Trade — to learn about upcoming opportunities that are just on the horizon, and to expand their knowledge of best practice in this complicated field.
When it comes to the latter, a number of high-profile speakers will be there to share their insights on a wide array of different topics. For instance, Oliver Coppard, Mayor of South Yorkshire, will take to the stage to espouse international trade's benefits for the regional economy, while Manuel Fantin (from UK Export Finance) will talk about how his organisation supports businesses in going overseas.
Elsewhere, Liam Smyth, Director of the British Chambers of Commerce (BCC), will give an update on important regulatory changes and how these are going to affect traders in the near future. Continuing with a similar theme, Sarah Milum, Investigations Compliance Director of the Trade Remedies Authority, will then clear up the intricacies of antidumping duties and safeguarding quotas. Finally, Michael Boulanger, CEO of RM Boulanger, will later have a session explaining how his organisation can deliver solutions that will help exporters to be compliant with DDP rules.
Breaking up these talks, there will also be a panel discussion halfway through the event, breaking down the various challenges and opportunities associated with international trade.
Reflecting on this packed agenda, Dan Fell, Chief Exec of Doncaster Chamber, said: "International trade is a vital cornerstone of our economy and that's why, as Chambers of Commerce, we always stress its importance and advocate for any members who want to explore the opportunities available to them in this lucrative field.
"With that said, we are incredibly excited to debut our International Trade Conference. By pooling together the collective resources and expertise of all three regional Chamber networks, this event will be an in-depth exploration. Delegates will be able to deepen their knowledge on this critical subject, better understand its various nuances, and establish lasting relationships that will help them represent Brand South Yorkshire on a global stage.
"Whether you are a start-up looking to take their first steps into exporting and importing, or an established international trader that just wants to increase their prospects, there's bound to be something here that's relevant to you."
The South Yorkshire International Trade Conference will be held at the OEC Sheffield on Wednesday the 15th of November and has been generously sponsored by UK Export Finance and RM Boulanger.
Did you know? Members can submit their own news and events to be posted on our website. Log in to get started