Specialist Education Provider Harrison College Becomes Latest Patron of Doncaster Chamber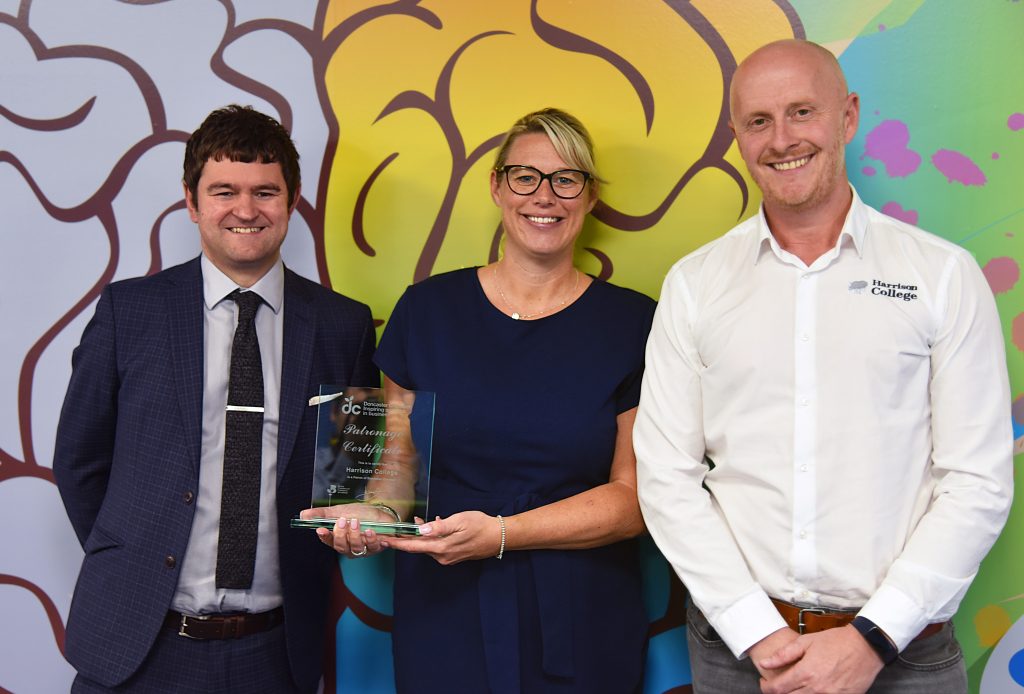 A renowned specialist education provider has just become the newest patron of Doncaster Chamber.
Having carved out a distinctive niche for itself, Harrison College is the only institution of its kind in our city. Founded by experienced teaching professional Gemma Peebles in 2019, its express mission is to provide better outcomes for post-16s who have special needs, placing a strong emphasis on developing their employability skills.
The not-for-profit organisation achieves this goal by creating a highly inclusive environment, where students are encouraged to reach their full potential and allowed to thrive. Among other things, the learners are given high-quality, individualised teaching (both in and out of the classroom), comprehensive internships, and guidance on how to apply for jobs.
Celebrated for all of the incredible work that it does catering to an underserved community, Harrison College has received ample praise and plenty of accolades in the relatively short space of time that it has been open.
In fact, it claimed two prizes at the recent 2022 Doncaster Business Awards, including the trophy for overall "SME of the Year." The judges were particularly impressed by Harrison College's forward-thinking strategy, and its commendable efforts to make a meaningful difference in the lives of anyone who comes through its doors.
It should go without saying then, that the local Chamber of Commerce is delighted to have such an esteemed organisation joining its patron family.
For a bit of context, membership at Doncaster Chamber is normally divided into three separate tiers (those being bronze, silver and gold). Depending on which of these packages a business chooses, they will then be entitled to various benefits, which could entail anything from complimentary event tickets to one2one business support, HR & legal services, and increased networking opportunities
By becoming patrons, however, select businesses like Harrison College are able to take their relationship with the Chamber to the next level. It is the highest possible tier of membership and signifies a commitment between the two organisations that they will start working together even more closely.
Welcoming Harrison College as a new patron, Dan Fell, Chief Exec of Doncaster Chamber, said: "The work that Gemma and her team do on behalf of our borough is so very important. They help young people to access prosperous futures, while simultaneously helping local employers to access the hidden talent that's often right under their nose.
"When undertaking our research for the South Yorkshire Local Skills Improvement Plan, we were heartened by the liberal and inclusive approaches that businesses were taking to recruitment. We found that the vast majority of employers in the region are very meritocratic and we know that Harrison College can help them benefit from — and maximise the talents of — learners who are neurodiverse.
"Harrison College is a tremendous asset to Doncaster and an integral part of our business community. Indeed, they can always be counted on to get involved with our various activities here at the Chamber, which is why we're so proud to have them on board as our latest patrons, where they will sit alongside incredibly good company."
On that note, patron membership is reserved for Doncaster's anchor businesses and those that are highly invested in the city's future success. The current list features some of the biggest names in our region, including: Carlton Forest Group; LNER; Orb Recruitment; Polypipe Building Products; Hybrid Air Vehicles; and SYNETIQ.
Gemma Peebles, Principal at Harrison College, added: "We have enjoyed a fruitful relationship with Doncaster Chamber to date — supporting their flagship events, successfully entering the business awards, and engaging with their other activities — and so becoming patrons felt like the next logical step in strengthening that link further.
"We share many of the same aspirations for Doncaster and are committed to seeing it flourish. With that said, I am looking forward to seeing what great things we can accomplish together in the future."
Did you know? Members can submit their own news and events to be posted on our website. Log in to get started