Episode 4 of the South Yorkshire PolicyPod Looks at Workplace Training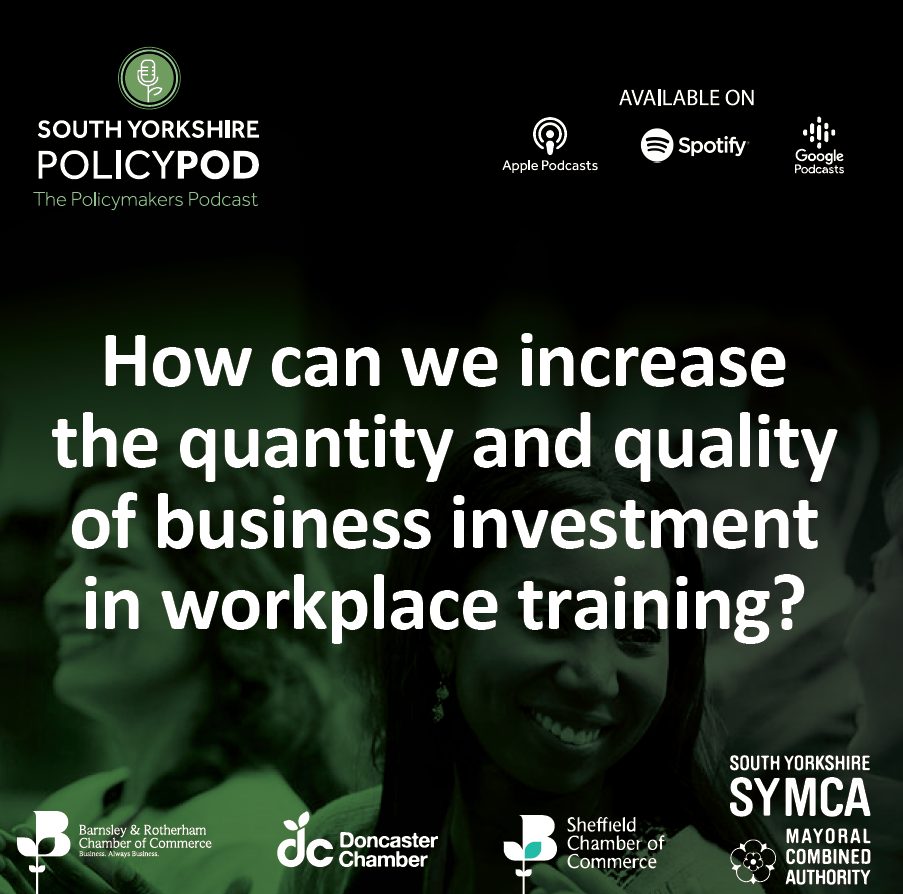 The latest episode of the South Yorkshire PolicyPod is now available to stream on Spotify, Apple Podcasts and Google Podcasts.
Developed by the three Chambers of Commerce for South Yorkshire (those being the ones for Sheffield, Barnsley & Rotherham, as well as Doncaster) this podcast series focusses on the most pressing issues of the day for local businesses.
In this fourth episode — hosted by Andy Gates, Assistant Director of External Affairs at the South Yorkshire Mayoral Combined Authority — we take a deep dive into the topic of workplace training, and how we can unlock the latent potential of our region.
Here, Andy is joined by our Chief Exec, Dan Fell, as well as Naomi Clayton, Deputy Director at the Learning and Work Institute. Together, these experts have an in-depth conversation about skills.
Covering everything from how we can better incentivise employers to invest in their staff , to how the South Yorkshire Local Skills Improvement Plan (LSIP) aims to improve training provision in the region, the episode goes into plenty of detail on this vital subject.
For those who are interested in the future of South Yorkshire and its talent, this is an absolute must-listen
About the South Yorkshire PolicyPod
Through this podcast you'll discover a range of views from our expert panels as they discuss the findings of the quarterly South Yorkshire Quarterly Economic Survey.
This is not your traditional report format; you'll gain a unique perspective from leading figures from businesses, organisations and public institutions in our region in a format which will allow open discussion and critical insight.
The South Yorkshire PolicyPod is a fantastic outlet for you to hear the latest issues affecting the South Yorkshire economy. The podcast is a must listen for those with a finger on the pulse of crucial matters affecting South Yorkshire, whether you are a business based in South Yorkshire, or simply have an interest in policy within the region.
The report findings used in the podcast; the South Yorkshire Quarterly Economic Survey, are used to influence local, regional and national governments and decision makers to help shape the support structures available to the local business community.
At the national level, it's a leading indicator that picks up big changes in the economy, often before other surveys or official statistics. The influence of the survey is long reaching, impacting The Bank of England's Monetary Committee, HM Treasury and the independent Office for Budget Responsibility when forecasting the UK's economic performance.
Did you know? Members can submit their own news and events to be posted on our website. Log in to get started