Chamber Teams Up With Amazon For Roundtable Event to Encourage More International Trade in Doncaster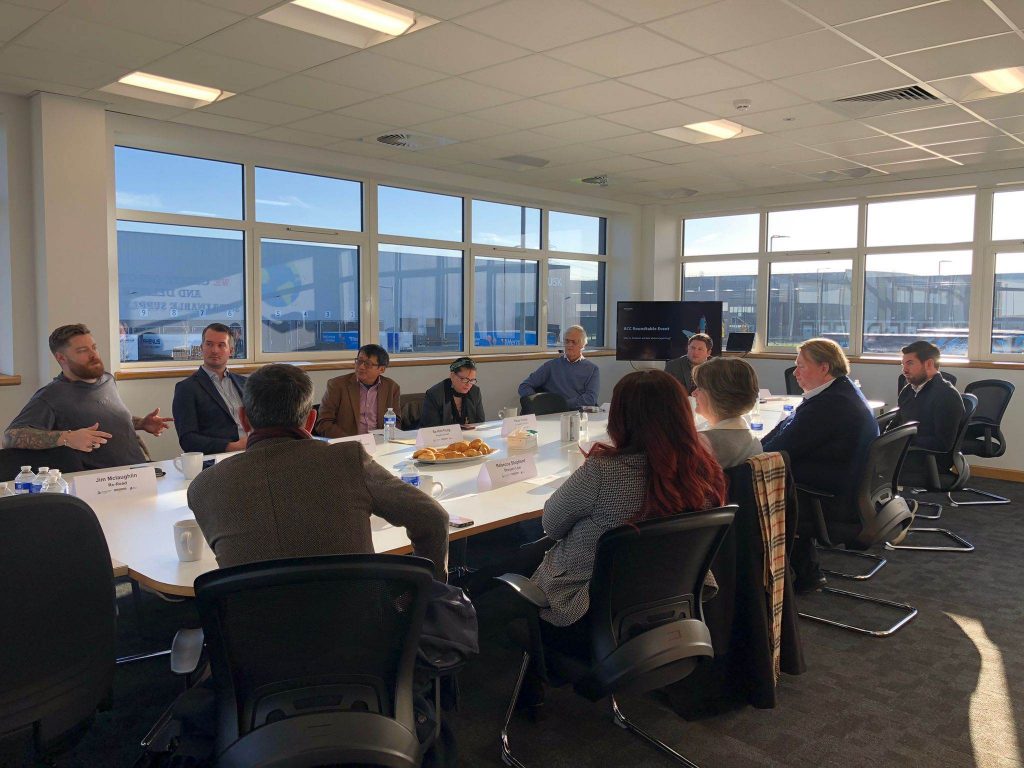 Delegates from Amazon, the local business community and Doncaster Chamber — as well as the latter's umbrella body, the British Chambers of Commerce (BCC) —  gathered together last week for an extended roundtable discussion on the subject of international trade.
The event, hosted by Woodland Group over at the iPort Logistics hub, was arranged as part of an ongoing collaboration between Amazon and the BCC.
Over the past twelve months, these two organisations have been holding a series of forums around the country, to encourage more SMEs to trade internationally. This is naturally a daunting prospect for a lot of smaller firms —  given all the financial complexities and legal requirements that are involved in exporting overseas —  but the roundtables provided an opportunity to allay such concerns.
At the events (of which there are three) businesses have been given an opportunity to ask their burning questions about international trade and to seek advice from experts who have been doing it for years. The ultimate aim is to highlight the support that is available out there for those who are thinking about shipping overseas in the future, but are not yet confident enough to make that jump.
The Doncaster roundtable took place on Friday 9th December and was attended by a diverse range of SMEs, some of whom already had a little experience with international trade while others were coming at it completely blind. Regardless of their prior knowledge, they all had a chance to participate in the conversation, alongside representatives from Amazon and the Department for International Trade.
Also present were Nick Fletcher, MP for Don Valley, an e-commerce specialist from Hawsons Chartered Accountants, and Bhayani Law. The latter was able to offer guidance on international trade from the perspective of a solicitor, thereby ensuring that the topic was covered comprehensively from all angles.
Speaking about the event James Salter, Head of UK Global Selling at Amazon UK, said: "It was really useful to hear from Doncaster's business community about what they consider to be the largest barriers that prevent them from trading internationally. We want to understand these concerns —   whether they're about the perceived cost of exporting, the implications of Brexit or just the fear of the unknown —   so that we can dispel them or at the very least highlight available support.
"There are approximately 85,000 SMEs selling on Amazon, and we want to help even more of them understand the opportunities of exporting overseas. Events like the one on Friday give us valuable insights and I am grateful to everybody who came along to make it such a resounding success."
Offering his perspective, Nick Fletcher, MP for Don Valley, said: "I was pleased to attend this event as it is vital that we continue to build a strong local economy in Doncaster.
"Brexit has enabled the UK to open up new markets across the world. It's so important that we recognise opportunities and take advantage of them. Events like this help provide local businesses with the expertise to take that step to exporting and to increase their turnover and profitability."
Jade Dyer, Business Director at Doncaster Chamber, added: "The roundtable discussion raised many interesting points and I am confident that our attendees left with a lot to think about. As champions of the private sector and Doncaster's economy, we are always looking for ways to encourage more local businesses to trade internationally, so it was a privilege to be involved with this event.
"I'd also like to take this opportunity to thank Hawsons and Bhayani Law for giving up time to share their expertise here, and to Woodland Group for being our generous hosts."
For more information about Doncaster Chamber's international trade support, click here.
Did you know? Members can submit their own news and events to be posted on our website. Log in to get started