Amidst Airport Uncertainty, Local Chamber Calls on Government To Choose Doncaster for Great British Rail HQ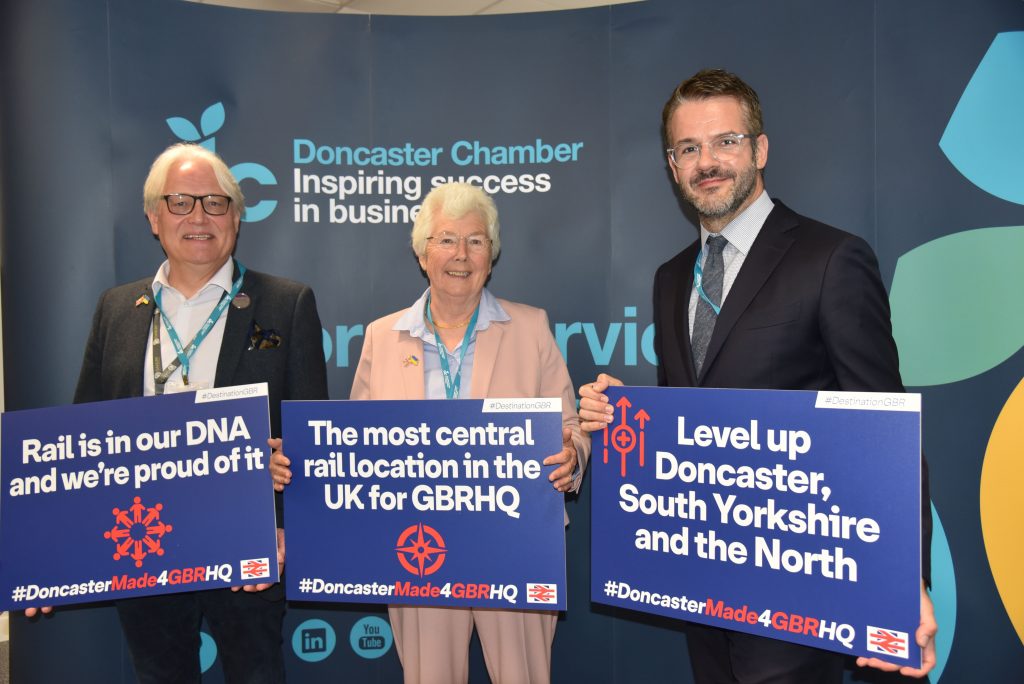 Six locations are currently vying to be named headquarters of Great British Railways (GBR) and, as the decision about this looms, Doncaster Chamber is urging the government to choose South Yorkshire.
Earlier this year, a competitive bidding process was opened to towns and cities across the UK, with a goal of deciding where GBR ought to be based once it is up-and-running. A total of 42 applications were put forward here, but the shortlist has since been whittled down to just six viable candidates. These finalists are Birmingham, Derby, Crewe, Newcastle, York and, of course, Doncaster.
Taking into account the strength of those initial bids, the subsequent campaigning efforts and the results of a public ballot (that closed back in August), the government will soon be announcing a winner in this contest.  The chosen place will then act as Great British Rail's base of operations, from which the public body will oversee our nation's rail industry. Among other things, it will be within the remit of GBR to set train fares, coordinate timetables, contract passenger services and collect revenue.
If Doncaster is selected as the HQ, then it will bring a range of benefits not only to the city itself, but also to the wider South Yorkshire region. Speaking about this in more detail, and why we are the only logical choice, Dan Fell, Chief Exec of Doncaster Chamber, said: "Our city is ideally suited for the GBR headquarters, as we meet all of the criteria set out by the government.
"For a start, Doncaster has a deep heritage in rail that dates back well over a century— having built the iconic Flying Scotsman and Mallard locomotives — and we continue to have strong connections to this sector today.
"Indeed, key industry players have chosen to base themselves in our region, including the likes of Unipart Group and Hird Rail, and we are already training the next generation of engineers right at our doorstep. Specialist education providers like the National College for Advanced Transport and Infrastructure (NCATI) and Doncaster UTC have curriculum that is specifically geared towards rail, as does the University of Sheffield. So it just makes sense for GBR to join them and to go where the developing talent is.
"Elsewhere, we are very well connected to the rest of the country and have a lot to offer GBR staff, should they need to relocate when the new HQ is announced. After all, Doncaster now boasts quality housing, a flourishing education system, and a fantastic leisure sector with internationally-acclaimed attractions like the St Leger Racecourse and the Yorkshire Wildlife Park.
"In short, rail is an inseparable part of our DNA. With that being said, as the Conservative Party meets for its Annual Conference and the new PM addresses it for the very first time, Doncaster Chamber is again calling on government to honour its levelling up commitments, by making South Yorkshire the home of GBR.
"Of course, it goes without saying that there will be great benefits for the region itself, which is in need of a boost right now, given the current uncertainty surrounding Doncaster Sheffield Airport. While the fate of this major economic asset hangs in the balance, being entrusted with the GBR headquarters would help to restore faith and confidence in the local community, at a time when it has taken a demoralising hit.
"Rest assured that the Chamber is continuing to fight for the airport's survival and Doncaster has proven its resilience with crises like this time and time again. Yet, in the meantime, having GBR based here will help to drive further inward investment into South Yorkshire, create new highly-skilled jobs and generate footfall in Doncaster city centre. If the government is truly serious about its commitment to levelling up the North of England, then this would be a fantastic way to demonstrate that.
"Our businesses and partners, alongside the other South Yorkshire Chambers of Commerce, have been vociferously backing Doncaster's GBR bid. For that, I thank them and hope that their hard work and dedication pays off.  With that said, I speak on behalf of the entire region when I say that we are eagerly awaiting the government's announcement."
For more information on why Doncaster should win, you can read the city's HQ bid in full below.
Did you know? Members can submit their own news and events to be posted on our website. Log in to get started