Doncaster Chamber Business Expert Inspires Young Entrepreneurs at UTC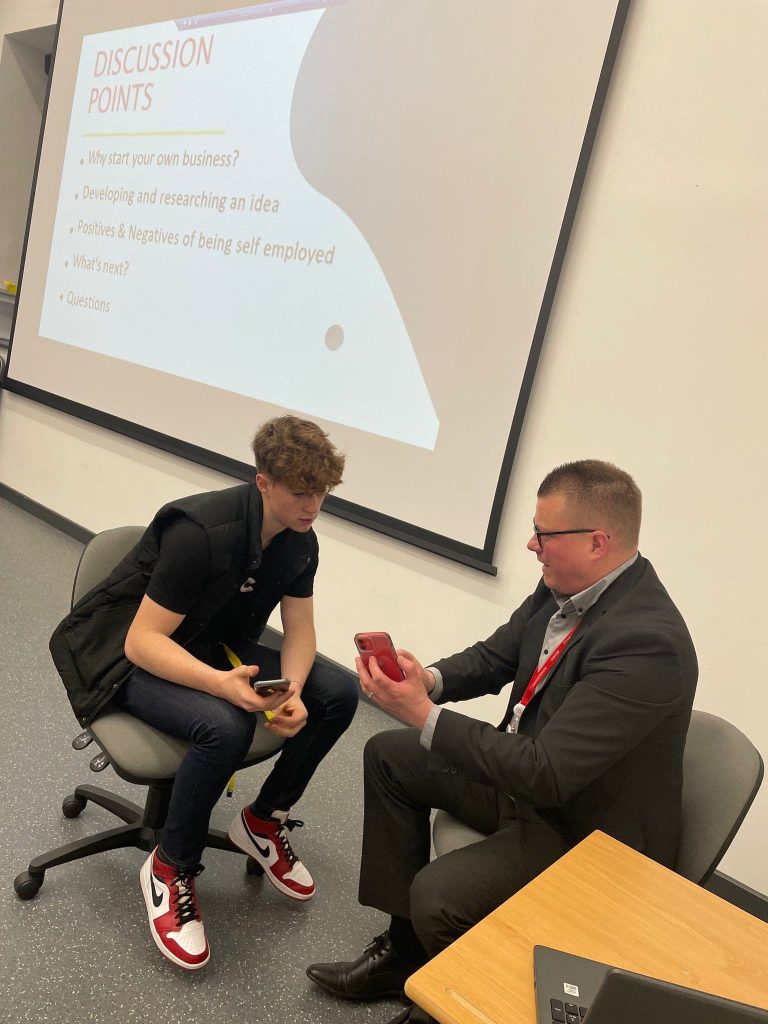 A business expert from Doncaster Chamber recently gave an inspiring talk and workshop session to students at the local University Technical College (UTC).
Gary Brocklesby, Business Advisor, spoke to around 100 aspiring entrepreneurs about how they can fulfil their ambitions, offering guidance on things like how to get a firm off the ground in the first place, the benefits of test trading, and the best ways to generate buzz on social media.
Brocklesby himself has a lot of expertise in this area, having successfully established his own business just a few years ago. A leisure and tourism graduate, it was always his goal to one-day become a travel agent.
After leaving college, he then cut his teeth at a holiday company before eventually opening a new firm in 2017. Since then, he has gone on to work at blue chip companies and is now a member of the Doncaster Chamber team, where he helps entrepreneurs achieve their own goals via the Launchpad programme.
Brocklesby talked about his journey at a recent UTC event, giving insights and advice along the way. The audience was made up of the college's innovation and digital students, aged between 16-17 years old, who are learning skills in fields like photography, engineering and IT.
Following the enlightening talk, he then opened the floor up to a live Q&A session, where both teachers and students had an opportunity to ask any burning questions. At the very end of the event, Brocklesby also offered one2one workshopping sessions (lasting about half an hour each) to give individual young people more bespoke guidance.
Speaking about this, Brocklesby said: "Having created my own business, I appreciate how daunting it can be to get started when you feel like you don't know everything. When I was going through that process, I made extensive use of Doncaster Chamber services and now that I am part of the organisation, I feel so proud to be giving something back.
"Getting to talk to all the industrious and ambitious UTC students was such a privilege, as they all had a lot of interesting questions. A particular highlight for me was getting to workshop with one young man who is currently getting his bicycle repair business off the ground. We had a really productive conversation about how he can increase his social media presence, make appearances at trade shows and start networking."
Reflecting on the successful event Michelle Agate, Careers Lead, from Doncaster UTC said: "Gary's talk was really useful and inspiring. I was especially pleased to see how engaged the students all were and how many fantastic questions they asked. I am confident that they got a lot of value from it and that they will be encouraged to pursue their aspirations further after listening to Gary."
In keeping with the theme of the talk, Brocklesby is currently responsible for Doncaster Chamber's involvement with the Launchpad programme. Delivered in conjunction with Doncaster Council, this service provides fully-funded support to pre-start, new and existing business, in the form of courses and training sessions. You can find out more on the Chamber's website. 
Did you know? Members can submit their own news and events to be posted on our website. Log in to get started