International service with uniform quality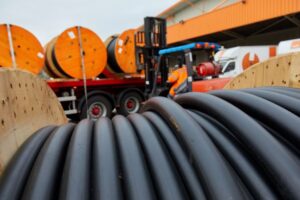 Eland Cables is a global supplier of cables and cable accessories working across the full spectrum of industry. With a comprehensive portfolio of power, data, control and instrumentation cables, Eland Cables works on challenging and large-scale projects, often chosen as the supply partner because of strict commitment to quality and compliance and a strong customer focus. Eland Cables' technical and industry experts work across many important international projects as varied as Mining in South Africa, Renewable projects in West Africa, Industrial Automation in Europe, and Rail networks in the UK. All have specialist cables with national and international standards and often industry or geo-specific approvals. Additionally, Eland Cables works with electrical wholesalers in the UK and Ireland to provide quality cables for their customer base. Because of a deep-rooted company belief that cable compliance can't be taken for granted, they established an in-house cable testing laboratory to provide the verification needed to give their customers peace-of-mind that they were buying and installing products meeting all relevant standards.
Evolving accreditation for continuous improvement
The in-house Eland Cables cable testing facility, The Cable Lab® has held ISO/IEC 17025 UKAS accreditation since 2015 and has had this certification reconfirmed each year since. The business has also extended the scope of this accreditation on several occasions as it has invested in new facilities, new equipment, and seen an increased demand for testing services and quality assurance from customers.
Eland Cables took the decision to become UKAS accredited, even though it is not mandatory for the business, due to a strong focus on quality and compliance that runs through the core of the organisation. To have a testing laboratory is not typical within the cable supply industry and they wanted to demonstrate to their customers that this was a centre of excellence, holding a recognised accreditation and staffed by technical experts able to deliver accurate, impartial results every time.
A centre of excellence Eland Cables Director, Jean-Sebastien Pelland commented on the achievement:
"UKAS accreditation to ISO/IEC 17025 is a byword for laboratory excellence. As a company we place emphasis on our accreditations as they are integral to our capability and reputation as a cable supplier. A world-class testing laboratory with a world-leading accreditation clearly points to a portfolio of products our customers can trust to perform."
A worthwhile journey Establishing a testing laboratory is both a significant financial investment and an investment in people in order to deliver that expertise. From the start of this process Eland Cables intended to become UKAS accredited, a process that involves an in-person assessment audit, backed up by extensive documentation and demonstrating a track record of being able to deliver accurate results.
On the journey to accreditation, Jean-Sebastien commented: "The whole process involves a considerable investment in time, but that's part of the reason why the accreditation holds such cache. It's not an achievement easily or quickly gained and that is why it is so important to celebrate."
Accreditation as a business-enabler Eland Cables perceives ISO/IEC 17025 accreditation as an indirect benefit to everyday activities, supporting Quality Assurance protocols and demonstrating compliance with impartial test results. Their clients tend to be extremely quality-conscious and due diligence requires them to demonstrate intelligent buying decisions - achieving accreditation has given peace-of-mind to Eland Cables' customers of the quality of their products. Additionally, accreditation has been the driver in offering third-party testing services in order to verify the compliance of cables from other sources.
Jean-Sebastien explained further: "For us, a cable is not just a cable: it's a vital connection powering infrastructure or controlling equipment; it's an integral part of a much larger build. We've made compliance assurance through rigorous and intensive testing a cornerstone of our service. It's all part of ensuring our customers can install cables with confidence – UKAS accreditation does this."