Employers and Business Professionals
The Doncaster Promise is an agreement between business and education to support the borough's plan: to build a growing, productive and inclusive local economy.
This page sets out what you, as an employer or business professionals in Doncaster are entitled to, as well as what is expected of you when you sign the promise.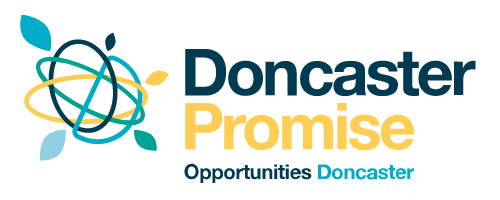 Entitlements for Employers
Through engaging with the Doncaster Promise, employers are entitled to receive...
Support to work with education and skills
Doncaster Chamber of Commerce and Opportunities Doncaster will support businesses to access and work closely with the education and skills sector, with the specific aim of helping businesses develop their workforce, develop the workforce of the future and meet their corporate social responsibility objectives.
Support to develop inclusion
Support with building and developing a more diverse workforce, which reflects your customer base and assists in the development of inclusive, healthy workplaces. This includes support to become 'young person ready', 'SEND employee ready' and support for diversifying your workforce and improving the talent mix.
Support to develop progression pathways
Support to develop career progression pathways for your employees, supported by local and accessible skills provision.
Kickstart Scheme
Doncaster Chamber as an intermediary organisation will support employers to access the kickstart scheme and work with them to create high quality placements.
Supply Chain Support and increasing the Doncaster £
Support from Doncaster Chamber and Business Doncaster to build your local supply chain and increase the Doncaster £
Start Platform
Access to the Start Platform to promote your business and build your profile with your future workforce.
Apprenticeship, Traineeship and Graduate Support
Access to advice and support on starting an apprenticeship scheme (including using the apprenticeship levy) traineeship scheme or graduate scheme.
Local Labour Market Information and Funding Support
Access to local labour market information and support to access the services that you need to help your business grow and to develop your workforce. To include advice on potential funding opportunities, including through the Local Authority, Sheffield City Region, UK Government and the European Union.
Advance Doncaster
Support through the Advance Programme on developing your mature students, graduates and lifelong learners.
Recognition, promotion and celebration
Employers will be recognised, promoted and celebrated for all work undertaken as part of the Doncaster Promise.
Expectations of employers
Employers are expected to engage through at least one of the three Promise Pathways offering as much within each as is feasible for their business size and type:
Engage, Inspire and Celebrate
Give virtual or face to face talks in schools and communities
Visit schools and communities – This could
include virtual or face-to-face talks and workshops
to students of all ages. There is also a great
opportunity to work with Primary Futures to
engage with primary-aged pupils.
Host an industry visit
Working with Opportunities Doncaster, host a live or virtual industry visit at your business venue to give learners insight into what you do and the range of occupations available at your place of work.
Participate in curriculum activities
Work with Opportunities Doncaster to develop in-school activities for young people. This could include, for example, curriculum competitions, Sector Safaris or the digital Made it in Doncaster project.
Get Involved with Opportunities Doncaster
This could involve helping us co-design programmes for learners or contributing to the reform of technical qualifications locally. There is also the opportunity to participate in the borough's largest careers fair, Opportunities Doncaster LIVE, which was attended by over 4,000 young people in 2020.
Have your business featured on Start Doncaster
This is the borough's digital all-age Careers Information, Advice and Guidance platform, currently used by over 8,000 students in Doncaster.
Get Involved with Doncaster Youth Hub
Support the next generation through engagement with young people and communities through
Doncaster's Youth Hub.
Skills for your Future Workforce
Provide meaningful work experience
Working with Opportunities Doncaster and NYBEP, we can help you to provide meaningful work experience.
Develop a graduate or an apprenticeship scheme within your business
This includes bringing apprentices into your organisation, as well as upskilling your current workforce through apprenticeship training. For graduates, this includes working to develop mature graduates who are currently working within your business.
Get involved in Traineeships and T Levels
Provide the opportunity placements for young people with a view to progressing them onto further opportunities. In addition to this get involved with the wider reform of L3 Technical qualifications to ensure qualifications reflect your business needs.
Become an Enterprise Adviser
Working with the Careers and Enterprise Company, volunteer for one day a month to support an assigned school or college to develop its Careers Strategy and use your networks to increase employer engagement.
Become a school, academy or college Governor/Trustee
Engage with the Advance programme
Advance will help you access the skills you require and will assist applicants and career-changers in Doncaster to access opportunities in your business.
Take on a Kickstart placement
Working with Doncaster Chamber, provide a young person paid work experience by taking on a Kickstart placement.
CSR, Communities and Supply Chains
Become a Disability Confident Employer
Working with DWP, Opportunities Doncaster and Doncaster Chamber, help improve prospects for SEND employees and job applicants alike.
Work with us to deliver supported internships in your workplace
Working with Project Choice or Harrison College to support more learners with SEND move into the world of work.
Volunteer as a Trusted Mentor
Volunteer with the Doncaster Trusted Mentor Service and use that opportunity to give a vulnerable young person a taste of the world of work. Or volunteer for an older learner and potential employee through the DWP Mentoring Circles Programme.
Develop your CSR Strategy
Receive support to develop and deliver your CSR strategy and engage with local initiatives.
Engage with Doncaster's Anchor Organisations
Become part of local supply chains through engagement with local Anchor organisations
Opportunities Doncaster and Team Doncaster would like to invite you to sign the Doncaster Promise. Now is the time to take this opportunity to develop a growing, highly paid and highly skilled borough, where all communities share in the proceeds of growth.
Download these documents to help make the most of your promise
Doncaster Promise communications pack
Information to support your business communicate its support of the Doncaster Promise.
Download the Doncaster Promise document
Download your copy of the Doncaster Promise.