The Doncaster Promise is an agreement between business and education to support the borough's plan: to build a growing, productive and inclusive local economy.
This page sets out what educational establishments and professionals are entitled to, as well as what is expected of them, when they sign the promise.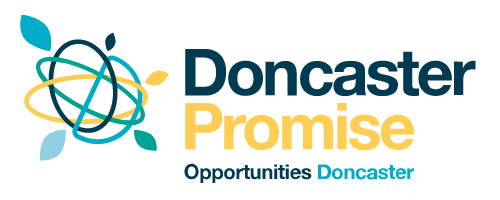 Entitlements for our education and skills sector
Our education and skills sector is entitled to...
Support to deliver careers
Strong and consistent support in providing high quality CEIAG in Doncaster, meeting the challenges posed by the Gatsby Benchmarks and the new Ofsted framework in delivering this.
Support to engage with employers
Support to engage and build relationships with employers, mediated by Opportunities Doncaster.
Support to develop high quality vocational learning opportunities
Accessible learning resources to support careers learning and the development of high quality, vocationally-relevant learning opportunities within their setting. This is to include support in the implementation of T Levels.
Support to develop progression pathways
Support to develop career progression pathways for your employees, supported by local and accessible skills provision.
More businesses engaging with learning
Significantly more businesses engaging with your setting, with more businesses ready and able to support learning in the classroom.
More careers activities
A significant increase in engagement activities that support learning, such as careers fairs, industry visits, skills days, Opportunities Doncaster LIVE and Doncaster Careers Week.
Support from Opportunities Doncaster
Opportunities Doncaster will offer all educators in the borough a tailored, wrap-around service including coordination of activities with employers, support to embed careers into the curriculum including teahing resources, lesson plans and access to best practice careers learning.
Support for inclusion
Targeted support for learners with specific needs, with a brokerage service provided for SEND learners and those at risk of becoming NEET.
Support to access LMI
Access to high quality, up to date local Labour Market Information (LMI) which will support learning.
Start Doncaster
Support in using and integrating the Start Doncaster Platform within learning.
Expectations of educators
A fairer future begins in school. We believe every young person in Doncaster should have a clear line of sight of what they can achieve and how they can meet their aspirations, no matter their social background.
We can help your school provide high quality, vocationally relevant learning opportunities that help support your students to thrive in the modern workplace. All we ask from you is to:
Engage and be responsive
Engage with the Promise, business community and the public sector whilst being responsive and communicating requirements effectively.
Develop business learning in the classroom
Commit to business learning in the classroom by informing learners of relevant high quality employment and education pathways. Work with businesses to develop vocationally relevant learning opportunities for all.
Meet the Gatsby Benchmarks
Commit to meeting the eight Gatsby Benchmarks in careers education, information, advice and guidance.
Engagement with Opportunities Doncaster
Engage with Opportunities Doncaster, Doncaster Careers Hub and the Enterprise Adviser Network.
Co-develop vocationally relevant learning
Work with businesses and the public sector to develop vocationally relevant learning opportunities for young people. This will provide them with the essential life skills they require to function both in Doncaster and within the wider, modern globalised economy
Work within the place
Utilise the significant available resources within Doncaster to forge partnerships for the benefit of learners and the wider community.
Download these documents to help make the most of your promise
Doncaster Promise communications pack
Information to support your organisation communicate its support of the Doncaster Promise.
Download the Doncaster Promise document
Download your copy of the Doncaster Promise.