Doncaster Business Awards
Doncaster Business Heroes
There are so many businesses out there doing fantastic things to help others but they aren't always recognised in the way they should be. That's why we're on the look out for companies going above and beyond to help others during the Coronavirus pandemic.
Examples may include businesses adapting their production lines to manufacture critical PPE, those helping local NHS hospitals, care services and front line staff, or lending a hand to support the more vulnerable in the local community.
Do you know a business who has gone above and beyond?
Nominate a business hero and they could win an award at this year's Doncaster Business Awards!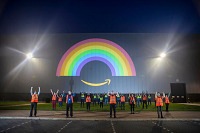 Staff and patients at Doncaster Royal Infirmary received a special delivery from Amazon's fulfilment centre on Doncaster's iPort when the team showed up with Fire Tablets and chocolate. 
The hospital received 15 Fire Tablets with screen protectors, providing patients in palliative care with the technology needed to communicate with their families.
The Amazon team also donated almost 3,000 bars of chocolate to the hospital to say thank you to its hardworking doctors, nurses and staff.
Adam Banks, Site Leader at Amazon in Doncaster iPort, said: "It's our pleasure to support the staff and patients of Doncaster Royal Infirmary. There will never be enough bars of chocolate to say thank you to the key workers of the NHS, but we hope that this donation will lift their spirits."
Amazon also showed its thanks to the nation's key workers by lighting up its buildings around the country, including a giant rainbow projection at the iPort Amazon Fulfilment Centre in Doncaster. The rainbow projections were lit up every evening over a period of three weeks when the pandemic was at its height as a show of appreciate for key workers and Amazon associates around the country.
Could your business help support the unsung heroes?